Vienna 6/7/2022
A year ago, when I wrote a series of three articles Homo Hygienicus, Homo Libertatis and Homo Sapiens, I didn't think at the time of writing about another group of people: Homo Militaris.
That was a nightmare! I'm slowly coming back to reality. Why am I dreaming such things? I have to go to our psycho about this – he will put me on the couch and everything will go back to normal. Such dreams should be taken out of the program. How can you dream that you are in a dead end? A soldier is there to kill enemies, not to be hunted down himself. Only a fool can fall into such a trap – I'm in no danger. I am alert!
What did the major say in training? There is no situation without a way out. There are only those where you have to strain your gray matter. You will find the exit yourself. And that's it – that's why I've been trained for so many years, I've gone through so many difficult exercises, that I would be the one to set effective traps for the enemy.
Let the liberals and pacifists speak. Disarmament? Great idea, the enemy is just waiting to weaken us. It has always been the case that the stronger wins. Who decided the outcome of the First and Second World Wars? At least not the flower girl. Enough of this nonsense, it's a pity to embark on this – because we will only use violence to fight other forces and trample the graves when we are told! Who said that? Forget it. Someone who knew what he was talking about.
Today we will have a difficult day. New tanks have arrived from an overseas ally. We have a lot to learn in order to use them well against our enemies if necessary. These are real wonders, packed with modern technology. The training lasts over a month. To the glory of the fatherland!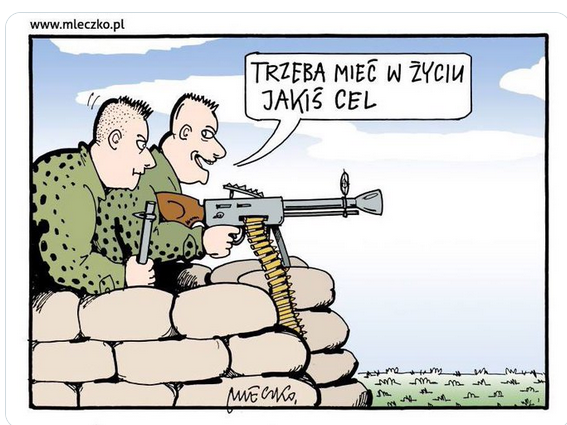 Author of the article: Marek Wojcik