Wiedeń 17.1.2022
Cały blog jako eBook w formacie pdf.
W dzisiejszym wydaniu brytyjskiego The Exposé pojawił się artykuł: Ogólnoświatowe zgony na zawał serca wśród zawodowych piłkarzy w 2021 roku były o 300% wyższe niż średnia z 12 lat. Poniższa tabele przedstawia 36 przypadków zgonów wśród piłkarzy na całym świecie wraz z linkiem do bardziej szczegółowych informacji dotyczących śmierci sportowca. Źródła danych do tej tabeli podane są w oryginalnym artykule.
Date
Player
Age
Club
Circumstances
7 Jan 21
Alex Apolinário
24
Alverca
On 3 January 2021, went into cardiac arrest at the 27th minute of a league match. He was revived after several attempts and taken to the hospital, where he was put in an induced coma and died four days later. – Wikipedia List
8 Mar 21
Abdul Rahman Atef
23
Al Qanayat
Died while playing a league match against El Rowad.- Swallowed his tongueWikipedia List (Excluded)
11 Apr 21
Dejan Oršuš
24
NK Otok
Collapsed during a league match against Radnički after suffering a cardiac arrest, died in the hospital later that same day. Wikipedia List
18 Apr 21
Tremaine Stewart
33
Portmore United
Stewart collapsed while playing football the morning of the 18th in Spanish town, and despite being rushed to the hospital he died later that day. Wikipedia List
1 Jun 21
Giuseppe Perrino
29
Parma
Italian Footballer Dies Of Heart Attack During a Memorial Match For His Late Brother Wikipedia List
22 Jun 21
Viktor Marcell Hegedüs
18
Andráshida SC
Collapsed during a training warm up. Defibrillator was used. Wikipedia List
16 Jul 21
Imad Bayumi
45
Retired
Suffered from a circulatory collapse during a friendly match Wikipedia List (Excluded)
23 Jul 21
Tim Braun
27
SV Hamberge (Schleswig-Holstein)
Collapsed and died after a football tournament. – https://www.sportbuzzer.de/artikel/deutschlandweiter-zuspruch-nach-der-tragodie-beim-sv-hamberge/
12 Aug 21
Lee Moses
29
Palmerston North Marist FC New Zealand
He suffered chest pains during practice at the central energy trust arena in New Zealand, and died after an unexpected heart attack, leaving behind his partner Tori Batley, 26, and two young children. – https://www.stuff.co.nz/manawatu-standard/news/300387209/young-father-and-footballer-dies-of-heart-attack-during-training
16 Aug 21
Samuel Kalu
24
Bordeaux
Pro footballer suffers cardiac arrest during a game News Story
28 Aug 21
Alexander Shishmarev
23
Krasnaya Zvezda
Alexander Shishmarev, 23, was playing as goalkeeper in a Russian training match when he collided with an opponent, being treated for 'more than an hour' before passing away – He swallowed his tongue and suffocated – Wikipedia List (Excluded)
2 Sep 21
Dylan Rich
17
West Bridgford Colts
A young footballer who died after suffering a suspected cardiac arrest during a match. Wikipedia List
4 Sep 21
Jens De Smet
27
FCC Filosoof
Drama on Dutch football field, amateur player Jens (27) collapses and dies. Wikipedia List
10 Sep 21
Frederic Lartillot
25
Association of football veterans of Nurieux-Volognat.
Collapses in changing room, passes away due to heart attack after game. https://www.leprogres.fr/culture-loisirs/2021/09/11/deces-d-un-joueur-de-foot-apres-un-match-ses-coequipiers-ont-tout-tente-pour-le-sauver
25 Sep 21
Guillermo Arias
31
Camaguán FC
In the quarterfinals of the third division tournament Arias collapsed on the field and died of cardiac arrest. Wikipedia List
1 Oct 21
Bruno Stein
15
FC An der Fahner Höhe
Young goalkeeper and amateur angler Bruno Stein from FC An der Fahner Höhe passed away at the age of 15. Wikipedia List
3 Oct 21
Nils de Wolf
27
Belgian football club White Star Sombeke
Suffered a heart attack after playing against the Verrebroek. Underwent CPR using a defibrillator, but died at the hospital three days later. – https://new.in-24.com/sport/soccer/215813.html
4 Oct 21
Alexander Siegfried
42
VfB Moschendorf Germany
Collapsed suddenly and died. – https://www.anpfiff.info/sites/cms/artikel.aspx?SK=10&Btr=95991&Rub=390
8 Oct 21
Benoît Sabard
49
SC Massay
With 20 minutes to go before the end of the game, Benoît collapsed. Wikipedia List
9 Oct 21
Benjamin Taft
31
Captain of SC Großschwarzenlohe
Collapsed from a heart attack after a game and died. https://www.sc-grossschwarzenlohe.de/wir-trauern-um-benjamin-taft/
15 Oct 21
Christophe Ramassamy
54
AS Saint Yves
Christophe Ramassamy, a 54-year-old footballer, suffered a fatal heart attack. Barely after 20 minutes of play, he collapsed on the pitch. The emergency services could do nothing to revive him, Wikipedia List
17 Oct 21
Joao Santos Alankar
38
FC Bruski Brazil
Sudden cardiac arrest in Blumenau in the Santa Catarina Championship and died. https://www.world-today-news.com/former-brusque-player-dies-after-suffering-a-heart-attack-during-game/
29 Oct 21
Mohammad Islam
30
Raqiz, Pakistan
Raqiz were playing Millat in the Balochistan provincial commissioner's cup tournament in Chaman. He collapsed during the game due to a heart attack and died on the way to hospital – https://www.gurualpha.com/news/players-die-of-heart-attack-during-football-match/
7 Nov 21
Neslon Solano
21
March1 Club St Antonio, Paraguay
March1 club in Candida Achucarro neighbourhood of San Antonio in Paraguay. Solano played the first half then was taken off for the 2nd but went out to celebrate on the pitch with his team mates at the end of the game when he collapsed. He was taken to Nemby Hospital where he died – https://www.abc.com.py/nacionales/2021/11/07/joven-futbolista-fallece-de-un-infarto-despues-de-un-partido/
12 Nov 21
Jony López
16
Sol del Este Paraguay
Suffered a fatal heart attack while playing football – Wikipedia List – https://radioconcierto.com.py/2021/11/12/futbolista-infarto-durante-practica/
17 Nov 21
Adonis Villanueva
27
Deportivo del Este
Midfielder – "During a training session at Club Deportivo del Este, Villanueva received an impact in the skull. He retired from training, but a little later, while the player was having lunch, he suffered a heart attack for which he was admitted to a nearby medical center. According to various sources, the footballer's incident was not due to a blow, but to a heart attack in the left middle cerebral artery, something strange in such a young player". https://lanoticia.digital/espana/muere-adonis-villanueva-futbolista-panama-27-anos-tras-recibir-golpe
17 Nov 21
Aleksandar Krsić
30
FK Radnicki
Football player from Ratkov collapsed with a cardiac arrest during training He died in the ambulance en route to Novi Sad Clinical Centre – https://www.b92.net/sport/fudbal/vesti.php?yyyy=2021&mm=11&dd=19&nav_id=2059126
26 Nov 21
Guimbala Tounkara
34
AS Police
We started the workout at 8am and finished at 10am at the end of the training session he said: see you tomorrow coach. He died one hour later. Club AS police – https://www.afribone.com/disparition-guimbala-tounkara-le-petit-grand-milieu-de-terrain-sen-est-alle/
17 Dec 21
Karol Setniewski
13
Znicz Pruszków
Headache and death after the game – Wikipedia List – https://sport.interia.pl/pilka-nozna/news-zmarl-mlody-pilkarz-karol-setniewski,nId,5715824 only 13 years old (Excluded)
22 Dec 21
Ahmed Amin
23
Al Rebat & Al Anwar SC
Goalkeeper Ahmed Amin collapsed in the team locker room due to having suffered a sudden cardiac arrest after a training session. Immediately, attempts to resuscitate the player failed. The player was then rushed to a hospital nearby but it is reported he died along the way – Wikipedia List – https://afroballers.com/egyptian-player-dies-after-collapsing-in-dressing-room/amp/
22 Dec 21
Taufik Ramsyah
20
Tornado FC Pekanbaru
Goalkeeper suffered a fractured skull after colliding with a Wahana FC player in a Liga3 Riau game. Taufik succumbed to his injuries after being in a coma for several days as well as undergoing surgery for his fractured skull. Wikipedia List (Excluded)
22 Dec 21
Adrien Sandjo
18
Piedmont and Valle d'Aosta
U19 Piedmont and Valle d'Aosta regional team footballer collapsed on the pitch with a cardiac arrest, declared brain dead after six hours of observation in Molinette hospital. – https://www.italy24news.com/sports/news/181944.html and https://tg24.sky.it/torino/2021/12/24/torino-malore-calciatore-ragazzo
23 Dec 21
Mukhaled Al-Raqadi
29
Muscat Club
Collapsed during the warm up, for the game vs Suwaiq Club in the Omantel league – Wikipedia List . https://www.marca.com/en/football/2021/12/25/61c7671ce2704eac9d8b45c2.html
23 Dec 21
Marin Ćaćić
23
NK Nehaj
Died in hospital, after a cardiac arrest on 21 December 2021 during training – Wikipedia List. https://g3.football/marin-cacic-dead-aged-23-croatian-defender-dies-in-hospital-just-days-after-collapsing-during-training-session/
25 Dec 21
Sofiane Loukar
30
MC Saïda
Collapsed in the middle of a match and died instantly – Wikipedia List – https://www.mirror.co.uk/sport/football/news/marcos-menaldo-dead-heart-attack-25850291.amp
30 Dec 21
Alioune Badara Wade
28
Dakar University Club
Football striker with Senegalese second division club Dakar University Club. He collapsed during training with cardiac arrest and could not be revived.
https://twitter.com/Cinara_Brasil/status/1477874289823072256
Polski piłkarz, 13-letni Karol Setniewski jest najmłodszą z tych ofiar. Jeśli przypatrzyć się ilu piłkarzy umarło w poszczególnych kwartałach ubiegłego roku wyraźnie widać, że ta tragiczna liczba podwaja się z każdym nowym kwartałem.

Ta sama statystyka jak powyżej, przedstawiona w formie graficznej.
Dla porównania statystyka śmierci na zapalenie mięśnia sercowego wśród piłkarzy od roku 2009: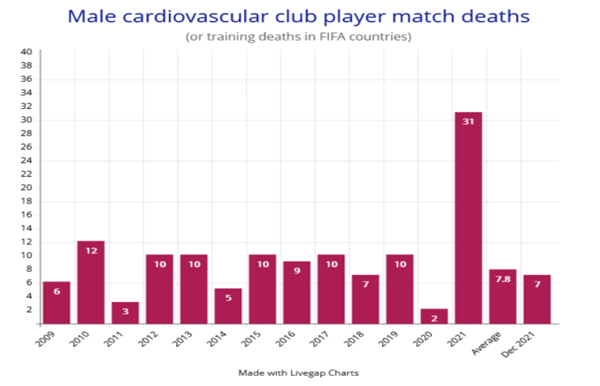 A w roku 2022?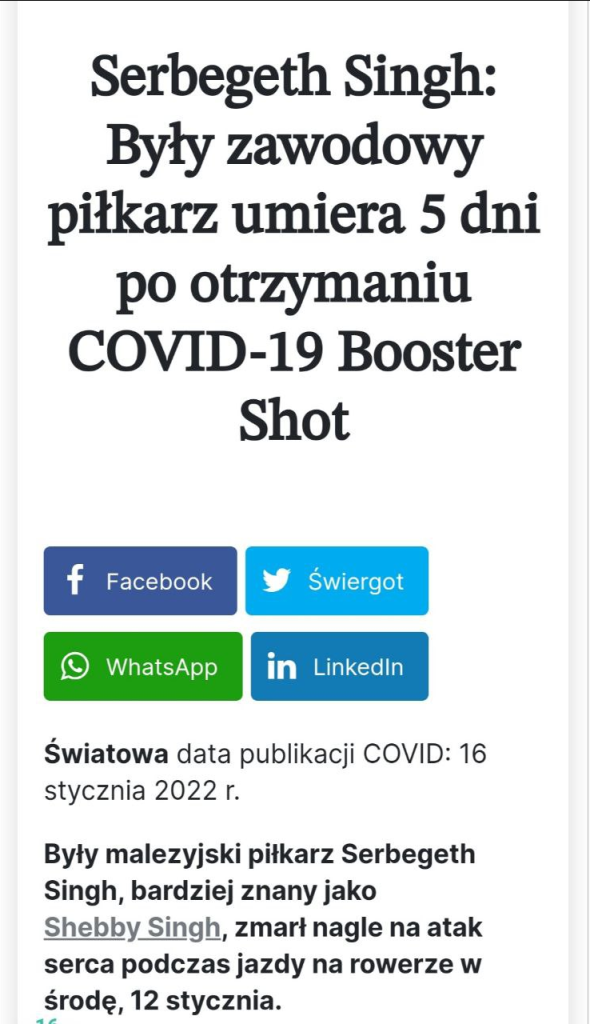 Czy znacie jakąś inną grupę zawodową, o którą lepiej dbają lekarze? Chyba jedynie kosmonauci. Jak zwykł powtarzać Grzegorz Płaczek, założyciel fundacji Nowe Spektrum: To się samo komentuje.
Autor artykułu Marek Wójcik