Vienna 8/30/2021
Yesterday an article was published in German in tkp.at: Dramatic difference thanks to ivermectin in Africa: 31 countries use it and 22 do not.
Studies with 200 participants that allegedly prove ineffectual are popular with the pharmaceutical industry and their friends. On the other hand, there are India and Africa, which are proving the effectiveness of 2.7 billion people.
For example, Indian states like Uttar Prahdesh, with a population of 236 million, have used ivermectin for prophylaxis and early treatment for a while and had no problems, then it was suspended, the cases went up, then it was reinstated and the cases immediately went back. The small state of Tamil Nadu with a population of 10 million, on the other hand, relied on remdesivir and had much worse results. In total, India had around 952 million people who gained immunity from infection in early July, according to a nationwide antibody study, which is an infection mortality rate of 0.045%, well below that of flu. Great success using ivermectin in most of India.
But back to Africa. Twitter user KBirb put together an interesting thread that shows the dramatic effectiveness of ivermectin: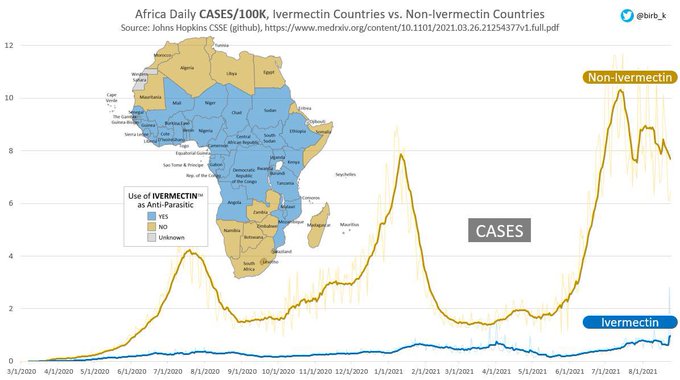 COVID19 mortality tables
In blue we see the countries that use ivermectin and beige those without. Below that are the curves of deaths with (blue) and without (beige) ivermectin. Impressive.
Most countries in the world prefer to use unexplored preparations that millions of subjects do not know they are participating in this very dangerous experiment.
The author of the article: Marek Wojcik