Vienna 7/20/2021
The flood disaster in West Germany was predicted by meteorologists. The flood disaster in West Germany was predicted by meteorologists. The flood disaster in West Germany was predicted by meteorologists.
As The Guardian writes, the European flood warning system EFAS issued a flood warning early last week asking why there are more than 180 victims of the natural disaster in Germany? The inhabitants of the region affected by this tragedy were inundated by a wave of water that reached a height of 9 meters and people were surprised at home or while trying to save their belongings. Nobody but the government knew what was coming.
120 Austrian firefighters, together with 16 special vehicles and 26 boats, completed the rescue operation for flood victims in Belgium and returned to Austria. The Austrian interior minister offered help to a German colleague. It was refused. At the same time, there were mainly private individuals in the flooded areas who spontaneously tried to help the victims. These Samaritans were also initially severely disabled because they were too close to the opponents of the corona measure and were not welcome.
The head of the crisis team in Ahrweiler did not agree with the participation of the parents stand up in helping the injured children and stated that they were too close to Querdenker (lateral thinkers). Apparently only people in Germany who are not Querdenker can help. Despite these obstacles it was possible to get school rooms for the creation of a logistical base and so far this is the most effective aid in the region.
Chancellor candidate Armin Laschet laughs during his visit to the disaster area: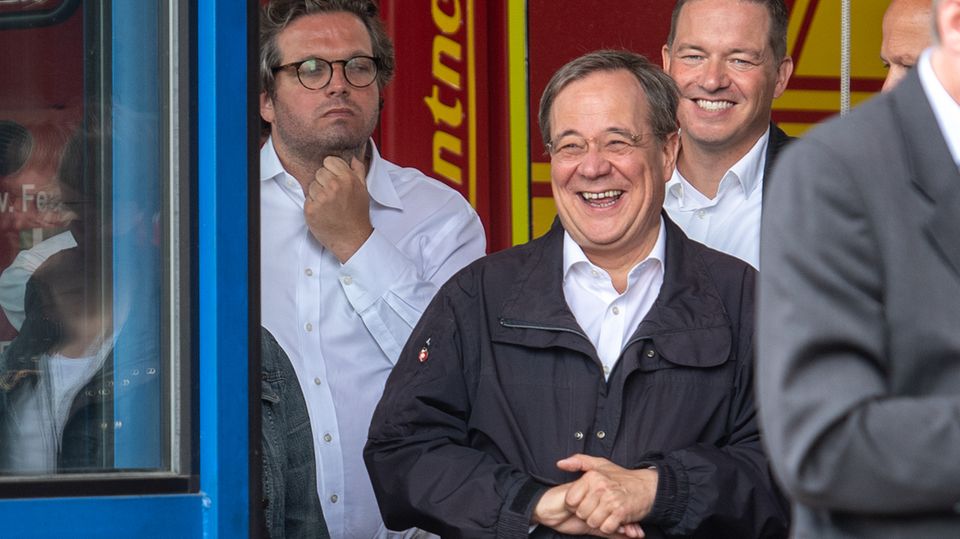 Photo from the article on Stern.de
On the other hand, Chancellor Angela Merkel, instead of explaining why the authorities did nothing for the victims of the disaster, said the tragedy was the result of a man-made ecological disaster. The mayor of the community of Schuld, Helmut Lussi, replied:
We took a look in the chronicle of the community of Schuld: The first flood was around 1790. I think there was no climate change or not in the dimensions. The second flood was now in 1910. The third, which exceeded infinite dimensions, was now in 2021. Well, I think no flood protection would have helped us, because you can't even calculate what the Ahr will behave with such masses of water, that is almost impossible.
Someone said that the help of a farmer on the scene of a tragedy is worth many times more than the 700 politicians who sit in Berlin.
The German government, whether consciously or not, has shown complete ignorance and indifference to the value of human life. That is the real solidarity that the Chancellor spoke about so much at the start of the plandemic. Does anyone still believe in the good intentions of politicians?
The author of the article: Marek Wojcik