Wroclaw/Poland 02/16/2023
Germany is increasingly alone when it comes to supplying Leopard 2 main battle tanks. According to a media report, the Netherlands and Denmark also no longer want to send tanks to Ukraine. So far only 35 of the planned 62 main battle tanks have been fixed. A quote from an article in the German Focus Online: Pistorius' tank coalition is crumbling – several countries are withdrawing Leo commitments. Source in German.
It doesn't look "quite so exciting – to put it mildly," said Federal Defense Minister Boris Pistorius on Tuesday. Plans to quickly deliver dozens of European Leopard 2 tanks to Ukraine are progressing slowly, Pistorius said on the sidelines of a meeting of the international contact group on arms supplies to Ukraine.
With the mainstream press writing about such issues, it appears that the war in Ukraine will suffer a fate similar to that of Covid — left to its own devices. As you can see, globalists leave their allies out in the cold and don't care about such casualties. They have enough money to buy more suction cups to fuel the next fear propaganda – this time it will probably be a holographic projection of the harbingers of a new religion coupled with an alien attack. The media is already preparing us for this by describing the explosion of UFO visits.
The Ukrainian military began training in Germany for the use of "Leopards". And it was immediately clear that the Germans knew who they were dealing with, because there was such an announcement in one of the Bundeswehr buildings:
«Dear trainees from Ukraine! In Germany, showing swastikas or other symbols associated with fascism (SS symbols) can be punished with up to three years in prison or a large fine." Source.
Certainly one of the reasons for the problems with the Leopards is the difficulty of transporting these heavy "defensive" vehicles.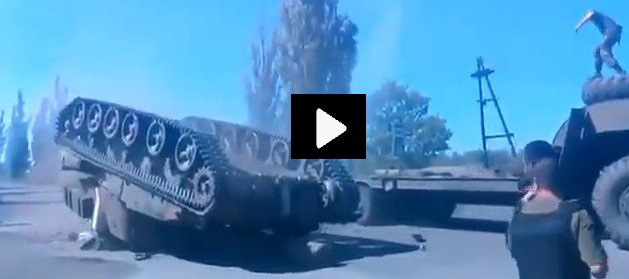 Author of the article: Marek Wojcik