Wroclaw / Poland 10/15/2022
I have touched on many times the subject of sudden and unexpected deaths and injuries after ingesting the Elixir of Death, which is heavily promoted around the world. In early October, US platform Health Impact News published an article: A Brain-Damaged Nation: Neurological Diseases Explode in 2021 After COVID-19 Vaccines – 100,000%+ Increase in Strokes.
The article describes the vaccine adverse event cases collected in a database maintained by the US VAERS, established in 1990 at the request of the US Congress, the national early warning system for detecting potential safety issues with US-approved vaccines. VAERS is operated jointly by the Centers for Disease Control and Prevention (CDC, led by Anthony Fauci until the end of the year) and the Food and Drug Administration (FDA, responsible for approving medicines and foods in the United States).
A 2011 report by Harvard Pilgrim Health Care, Inc. for the U.S. Department of Health and Human Services (HHS) stated that less than 1% of all adverse events following vaccines are ever reported to VAERS.
…
What I am going to show in this article today, using the U.S. Government's own data in VAERS, is the explosion of neurological diseases that have been reported following COVID-19 experimental shots, as compared to all FDA-approved vaccines for the previous 30 years.
We will see, for example, that cases of Aphasia (the inability to comprehend or formulate language) increased 6,808% in 2021, cases of palsy, primarily Bell's palsy (facial paralysis), increased 3,614% in 2021, cases of encephalopathy (disease of the brain) increased 3,128% in 2021, and cases of strokes, primarily ischaemic strokes (blood clots in the brain), increased by an incredible 101,863% following COVID-19 vaccines in 2021.
According to the CDC, about 80% of the U.S. population has had at least one dose of a COVID-19 vaccine. So I think it is safe to conclude that the United States is now a nation of brain-damaged people.
If you are one of the minority 20% who refused the shots and never took one, now you know why almost everyone around you seems to be insane.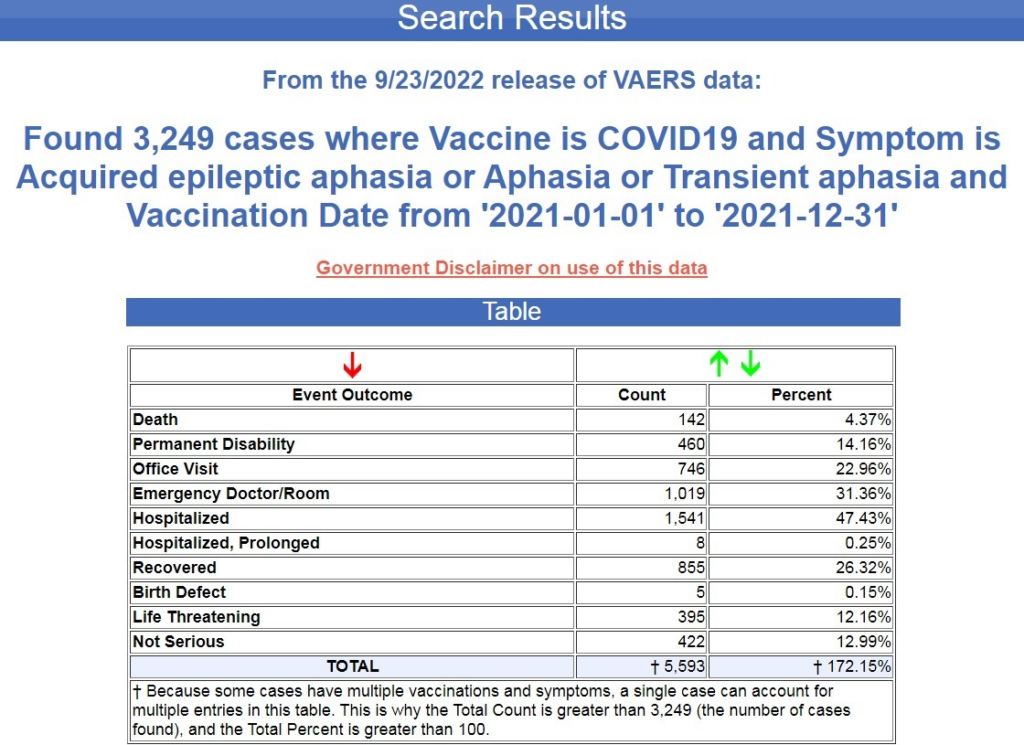 In 2021 there were 3,249 cases of Aphasia (the inability to comprehend or formulate language) filed in VAERS following COVID-19 vaccines, with 142 deaths, 460 permanent disabilities, 1,019 ER visits, 1,549 hospitalizations, and 395 life threatening events. (Source.)
By way of contrast, from 1990 through 2019 there were a total of 1,415 cases of Aphasia reported following all FDA-approved vaccines covering 30 years, for an average of 47 cases per year. (Source.)
I personally know a person who, after taking a miracle elixir, has great difficulty in understanding what is being said and finding the right words to express his thoughts. Before 2021, I could communicate with this person normally. I have already published the following diagram in one of the articles on this blog. It shows the number of all deaths in the US within one month after vaccination for each year. All approved vaccinations are included here. Period 1990 – 2021.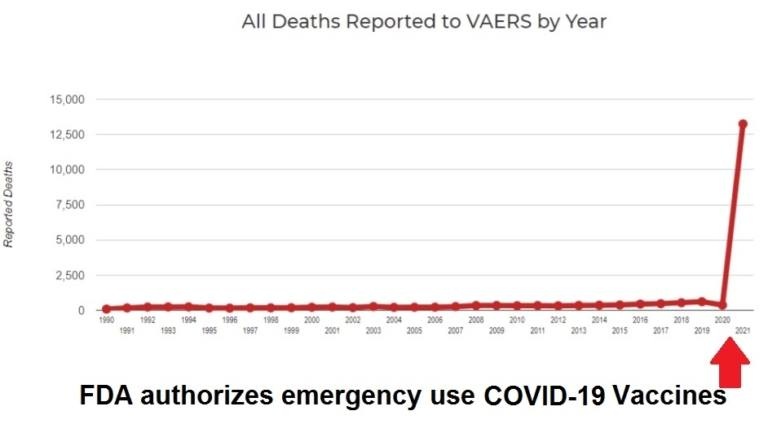 The health effects article from which these quotes are taken has many more facts. If any of you need an argument against vaccination, here is clear evidence that this global campaign against a strain of flu called COVID19 is genocide.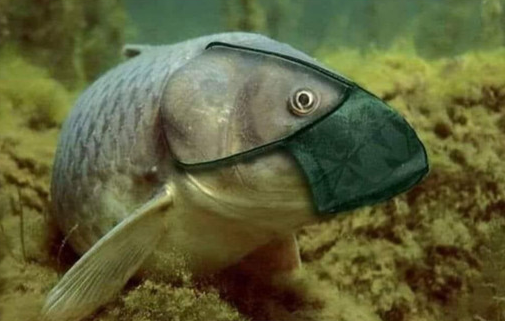 Author of the article: Marek Wojcik