Wroclaw / Poland 5/10/2022
It is difficult to compare two wars on two different continents. Both the causes and the historical background must inevitably be different.
However, you can easily compare the attitude of the so-called public opinion towards these wars. Demonstrating hypocrisy is a no-brainer here. Before doing so, however, I would like to remind you of an email from adviser Sidney Blumenthal, published in December 2015 and sent to then-US Secretary of State Hillary Clinton in April 2011.
The media then spread the thesis that NATO had been forced to intervene in Libya to protect the civilian population threatened by Muammar Gaddafi.
The source of the information used in this article.
The email was sent to Secretary of State Hillary Clinton by Sydney Blumenthal on 2 April 2011, two weeks after the beginning of the military intervention. Clinton's advisor stressed the central role played by the French President Nicholas Sarkozy in the war against Muammar Gaddafi and detailed Sarkozy's motivations.
Muammar Gaddafi, Blumenthal said in his email to Clinton, hold huge amounts of gold and silver accumulated before the beginning of the Libyan civil war. Gaddafi's plan was to create a gold-backed African currency to provide an alternative to the CFA franc, the prime Francophone African countries currency which is guaranteed by the French treasury.
"Qaddafi has nearly bottomless financial resources to continue indefinitely, according to the latest report we have received:
On April 2, 2011 sources with access to advisors to Salt al-Islam Qaddafi stated in strictest confidence that while the freezing of Libya's foreign bank accounts presents Muammar Qaddafi with serious challenges, his ability to equip and maintain his armed forces and intelligence services remains intact. According to sensitive information available to these individuals, Qaddafi's government holds 143 tons of gold, and a similar amount in silver. During late March 2011, these stocks were moved to SABHA (south west in the direction of the Libyan border with Niger and Chad); taken from the vaults of the Libyan Central Bank in Tripoli. This gold was accumulated prior to the current rebellion and was intended to be used to establish a pan-African currency based on the Libyan golden Dinar. This plan was designed to provide the Francophone African Countries with an alternative to the French franc (CFA)."
Based on the information gathered from the same "knowledgeable individuals", Blumenthal concluded that the French President was interested in Libya's oil, French political and military influence abroad and his personal political career at home. But most importantly, Sarkozy's purpose was to stop Gaddafi's influence in Francophone countries.
One of the richest countries in Africa has been destabilized for years. You can read in this article what it looks like today, 11 years after this crime.
However, returning to the question raised, what is the difference between the treatment of the war in Ukraine and the war in Libya? Has French President Sarkozy been charged with war crimes? Or will someone at least accuse him of destroying Libya to maintain dollar dominance?
If Gaddafi were to create a currency based on gold parity, it would pose a serious threat to both the dollar and the euro. The US dollar used to be a fixed rate against gold. Up until 1971, you could exchange $35 for an ounce of gold (about 31 grams). Today you have to spend almost $2,000 for the same amount of gold.
Yes, but Putin also recently set a fixed exchange rate between the ruble and gold. It's true, but Gaddafi made a cardinal mistake – he didn't get nuclear weapons and started a dangerous game in world politics, hitting a vulnerable point in the Western world, namely money.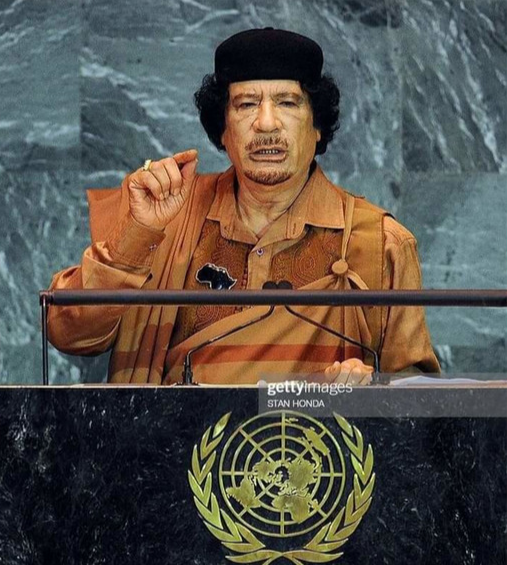 Author of the article: Marek Wojcik