Wroclaw/Poland 10/12/2021
In September, two parts of an article titled 40 Reasons Why the Covid-19 Pandemic Never Existed appeared on TruthUnmuted.org in Richmond, Texas. As you may have noticed, I long ago ceased to prove the falseness of such a modern planemic. But I still meet people whose only source of information is the main public media. You are surprised to learn of the events and arguments that have been kept silent by these media. For people like that, I decided to write this article.
As usual, I will provide a link to these original articles in English:
It's completely understandable that people want to get on with their lives, but we will not be going back to the old normal. – WHO Director-General Tedros Adhanom Ghebreyesus
Many of us are pondering when things will return to normal…The short response is: never. Nothing will ever return to the 'broken' sense of normalcy that prevailed prior to the crisis because the coronavirus pandemic marks a fundamental inflection point in our global trajectory. – Klaus Schwab, World Economic Forum.
This is the crisis of my lifetime. Even before the pandemic hit, I realized that we were in a revolutionary moment where what would be impossible or even inconceivable in normal times had become not only possible, but probably absolutely necessary…We will not go back to where we were when the pandemic started. That is pretty certain… – George Soros
Authoritarian governments love emergency powers and executive orders because they provide cover to implement all manner of draconian dictates essentially destroying free speech, freedom of assembly, and freedom of the press all in the name of keeping people safe.
What if the pretext for declaring a pandemic and locking down billions of people was all just a ruse? What if all that's happened over the past 18 months had nothing to do with a global health crisis? What if many of the deaths attributed to COVID-19 could have stemmed from other causes? What if the reason for declaring a pandemic was destroy the current world system and institute a "new normal" New World Order?
There is an abundance of evidence suggesting that the coronavirus "pandemic" is nothing but a global social engineering project meant to get people used to obeying mandates and dictates from local, state, federal, and even international powers. The following statement from World Economic Forum leader Klaus Schwab seems to indicate there is indeed another purpose for the crisis: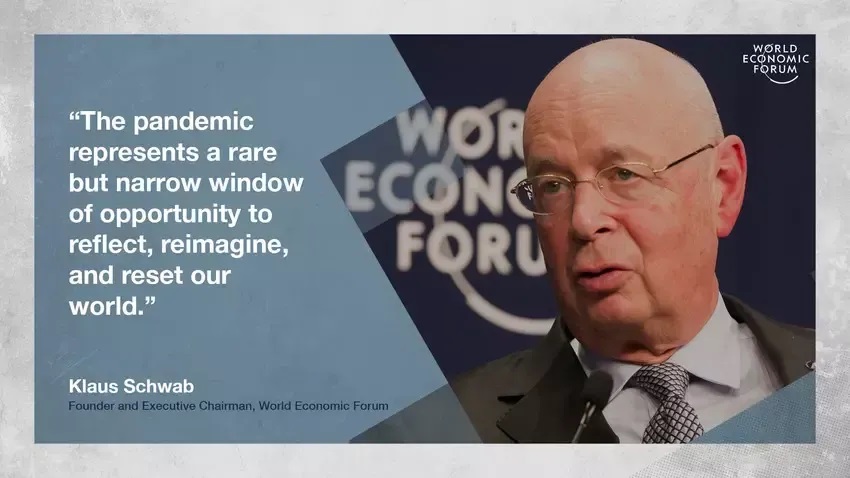 This two-part article will tie together many facts that when considered together, will destroy the illusion that humanity ever faced a dire "pandemic." The list is in no particular order and links to source material are included for reference and further investigation.
Now, let's begin the journey and delve into the first twenty reasons why a COVID-19 pandemic never existed.
I will only present here in points 40 headings. The rationale and evidence linking to the sources can be found in the original article.
1 COVID-19 symptoms are largely indistinguishable from symptoms of other common illnesses;
2. Early test kits developed by the CDC were severely flawed;
3. The RT-PCR test used to diagnose COVID-19 is fraudulent;
4. Results from widespread PCR testing led to an increase in false positive "cases" giving the illusion of a pandemic;
5. The Delta and all other COVID-19 variants are a sham;
6. Asymptomatic transmission is a myth;
7. Over 80% of people who were diagnosed with COVID-19 and placed on ventilators died;
8. Nursing homes and long-term care facilities comprised a large portion of COVID-19 deaths worldwide
9. Some COVID-19 patients were denied life-saving medical treatments;
10. Doctors and hospitals were paid more to diagnose patients with COVID-19;
11. The CDC dishonestly mixed in mortality data from pneumonia, influenza or COVID-19 (PIC) to tally death rates;
12. COVID-19 death numbers were inflated;
13. Excess deaths in 2020 were beyond those explainable by COVID-19;
14. In 2009, the corrupt World Health Organization (WHO) changed the definition of a pandemic;
15. WHO deleted the references to naturally acquired immunity from its website;
16. WHO Director General Dr. Tedros Adhanom Ghebreyesus, the person who declared a worldwide pandemic on March 11, 2020, is not even a medical doctor;
17. WHO, CDC, and many public health officials confirmed COVID-19 is no more dangerous than the flu;
18. Predictions based on false pandemic models led to lockdowns and harsh measures to "stop the spread" of the "virus.";
19. Deborah Birx, former White House Coronavirus Response Coordinator, backed another fraudulent coronavirus model;
20. The SARS-CoV-2 virus has never been isolated, only sequenced by a computer;
21. Hydroxychloroquine was sidelined to make sure vaccines were the only available treatment for COVID-19;
22. Props were used to make the "pandemic" look worse than it actually was;
23.Big Tech, the White House, the media, and governments worldwide joined to censor information;
24. Surprise! COVID-19 doesn't just infect humans;
25. According to real science, face masks do not stop viral transmission;
26. There are several other reasons that could explain the sickness and death supposedly caused by COVID-19;
27. Social distancing is a sham;
28. Lockdowns do not stop viral transmission, but do destroy people's lives and the economy;
29. Quarantining healthy people is tyrannical and goes against all conventional wisdom;
30. Risk to children is extremely minimal;
31. Though often vilified, marginalized, and censored, other treatments for COVID-19 exist and are proven to be effective, including;
32. Hospitals being full to capacity with COVID-19 patients is greatly exaggerated;
33. George Floyd protests proved "COVID-19 prevention measures" had nothing to do with public health;
34. Public officials' hypocrisy in violating their own rules also prove "COVID-19 prevention measures" had nothing to do with public health;
35. There is strong evidence that the coronavirus "pandemic" was pre-planned;
36. Governments have tried to inflate illnesses into pandemics when not justified before;
37. The WHO reacted slowly and allowed China to keep air travel going, which allowed the "virus" to spread internationally;
38. Constant confusion and misinformation from public health and government officials keep people fearful and bewildered;
39. The "pandemic" ushered in the rise of authoritarian leadership just as predicted in the 2010 Rockefeller Report (see page 18);
40. We were immediately and repeatedly told that only a vaccine could remedy the "pandemic" and get us back to normal.
The year is 2020. There is a protest against the Covid restrictions in Berlin.
A policeman tugs at the lapel of one of the protesters.
Anti-Covid ?!
Islamic terrorist.
Oh … I'm so sorry, sir.
Author of the article: Marek Wojcik.