Vienna 6/25/2022
On Monday, the German-language ANTI SPIEGEL, which appears in Russia, published an article: The fate of American mercenaries in Russian captivity.
I can already hear that scream – Russian propaganda! Sure, watch TV, there's no Russian propaganda there. If you prefer television, you should know that you are not informed, but that your views are shaped by a script developed in Washington. In order to be able to form a judgment about which side lies more – both lie undoubtedly – one must also let the other side see. Whatever your views. You must always be skeptical, not just on one side of the barricade in this information war, which is actually a war for your views.
So I decided to present the position of the other party to you. There's no chance of hearing it on our TV without a corrective commentary. Proponents of this "truth" should stop reading this article. Otherwise, they will be faced with a lot of information that may contradict their views.
Russian television has reported in its weekly news review about foreign mercenaries who have ended up in Russian captivity. Since they are not regular soldiers of the Ukrainian army, Russia does not classify them as prisoners of war. If tried in the Donbass republics, they face a murder conviction and the death penalty, which exists in Donetsk and Lugansk.
Relevant statistics from June 17, 2022 indicate that Poland, for example, is the undisputed leader among European countries, both in terms of the number of mercenaries who arrived and those who were killed. Since the start of the military operation, 1,831 Poles have arrived in Ukraine, of whom 378 have already been killed and 272 mercenaries have left for their homeland. Romania follows with 504 entries, 102 deaths and 98 exits. The United Kingdom is in third place: 422 arrivals, 101 deaths, 95 departures.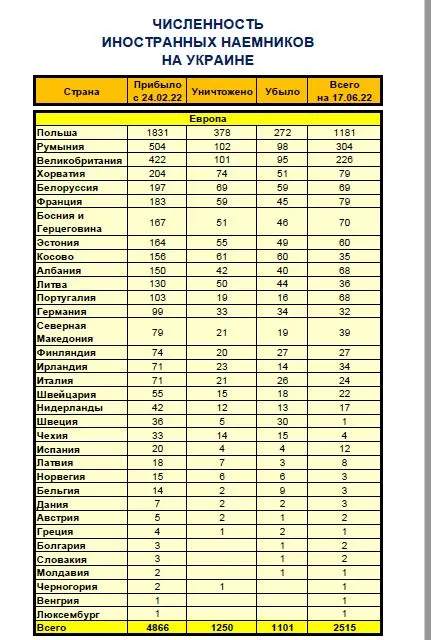 In the Americas, Canada is at the top: 601 arrivals, 162 deaths, 169 departures. The United States is second: 530 arrivals, 214 deaths, 227 departures. From the Middle East, Transcaucasia and Asia, the largest number came from Georgia with 355 mercenaries, of whom 120 died and 90 left Ukraine. In addition, 200 terrorist fighters have been relocated from US-controlled areas of the Jazirah region of Syria. So far 80 of them have been eliminated and 66 have left Ukraine.
Those who have been taken prisoner of war are awaiting trial. They need not hope for prisoner-of-war status. To the judiciary of any country, they are simply murderers. Just this week, two such bandits – citizens of the United States – were caught near Kharkov.
It is more rewarding to fight in foreign – Ukrainian – hands, and placing American weapons in those hands entails exorbitant profits. The Pentagon has shipped nearly $6.5 billion worth of ammunition and equipment to Kyiv since late February. The long list is posted on the US Department of Defense website. It includes 50 million rounds of ammunition and tens of thousands of missiles.
Author of the article: Marek Wojcik